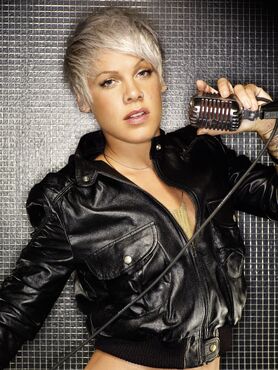 Alecia Beth Moore, better-known by her stage name P!nk, is an American singer-songwriter and actress who began her star-studded music career as an R&B artist.
In 2000, P!nk broke onto the music scene with the release of her debut album, the R&B-themed Can't Take Me Home. The album was a moderate success, reaching number 26 on the Billboard 200, and spawning two top ten singles on the Hot 100; "There You Go" at number-seven and "Most Girls" at number-four.
Another well-known R&B song of hers is "Lady Marmalade", a collaboration with R&B/hip hop artists Christina Aguilera, Mya and Lil' Kim. "Lady Marmalade" went on to become an international success, reaching number-one on the Hot 100 and all around the world.
Although P!nk hasn't released an R&B song since 2001 ("Lady Marmalade"), she still uses R&B influences when writing her current music, and often performs her earlier R&B songs during concerts and tours.
P!nk is internationally recognized for her tough "rocker" image, husky voice, pink, red, and white hair-colouring, and slightly controversial lyrics. Her writing style is mostly comprised of brutal honesty and true feelings.
Ad blocker interference detected!
Wikia is a free-to-use site that makes money from advertising. We have a modified experience for viewers using ad blockers

Wikia is not accessible if you've made further modifications. Remove the custom ad blocker rule(s) and the page will load as expected.