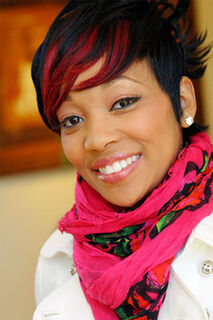 Monica (born October 24, 1980) is an American R&B recording artist and actress.
Monica released her first studio album entitled Miss Thang in 1995. Although the album was a moderate success internationally, and only reached number 38 on the Billboard 200, it spawned 4 top 10 hits on the Billboard Hot 100; "Don't Take it Personal (Just One of Dem Days)", "Before You Walk Out of My Life", "Like This and Like That", and "Why I Love You So Much".
In 1996, at 16 years of age, she recorded "For You I Will" for the Space Jam soundtrack.
3 years later, in 1998, Monica released her second studio album, The Boy is Mine, which brought forth 3 consecutive Hot 100 number-one hits; "The First Night", "Angel of Mine" (arguably her signature), and the Grammy-winning "The Boy is Mine", a duet with fellow R&B singer, Brandy. Although the album only reached number 8 on the 200, it is her most successful internationally.
Monica, along with Brandy and the late Aaliyah, is often considered the "Princess of R&B".